roger waters the wall tour
 2010-12-05
As I've mentioned many times, I'm a big Pink Floyd fan. The Wall was the first DVD I bought, and pretty much the reason WHY I got a DVD player in the first place :)
I've always been sore that the band broke up before I ever had a chance. Seeing this live though, that really made me feel like I really got to see what it might have been like. At the end of the concert, I told Michele that I wasn't sure it we watched a live rock concert, or a play. The visuals were so stunning and integral it was pretty amazing. Also, the band was purposefully hidden, which is really the core of the entire story. The freaking projection, and giant puppets were AMAZING!
If you have never heard the entire album, or watched the movie here is an overview:
Roger Waters has always been a bit angry, not violent, but more disappointed by our (the US really) greed driven society, and the horde mentality of "fans". After the Dark Side of The Moon, he seemed to feel an increasing level of "boorishness" from the audience. He began to hate the audience, and this was the beginning of The Wall. He wanted to build a physical wall between him and the audience. The main character, Pink (inspired by Syd Barrett), dreams this weird and maddening transformation while he watches TV in a hotel room. The entire metaphor is about him building a wall, each brick represents his mother, authority figures, capitalism/greed, etc… until he is completely isolated. Influenced by his own narcissism and WWII footage on TV, he becomes a mock fascist. Eventually, his is so upset by this, he puts himself on trial. His final punishment from the verdict is to "tear down the wall".
So, that is what the concert is, and for more, check out this site: The Wall Analysis
He spoke to the audience a few times, and it was very nice and warm. He said he is a lot happier, 30 years after he first toured The Wall. Even still, a "happy" Roger is still a very dissonant Roger. The imagery interwoven with the original animations was all about his contempt for war, and large corporations. Here is a good example:
One very cool part was during Mother. Roger sang on stage with himself… A projection of him from 30 years ago was played on the wall, he sang and played with it.
Below are a few pictures I was able to take. I filmed a few of the songs, but only the audio is of decent quality.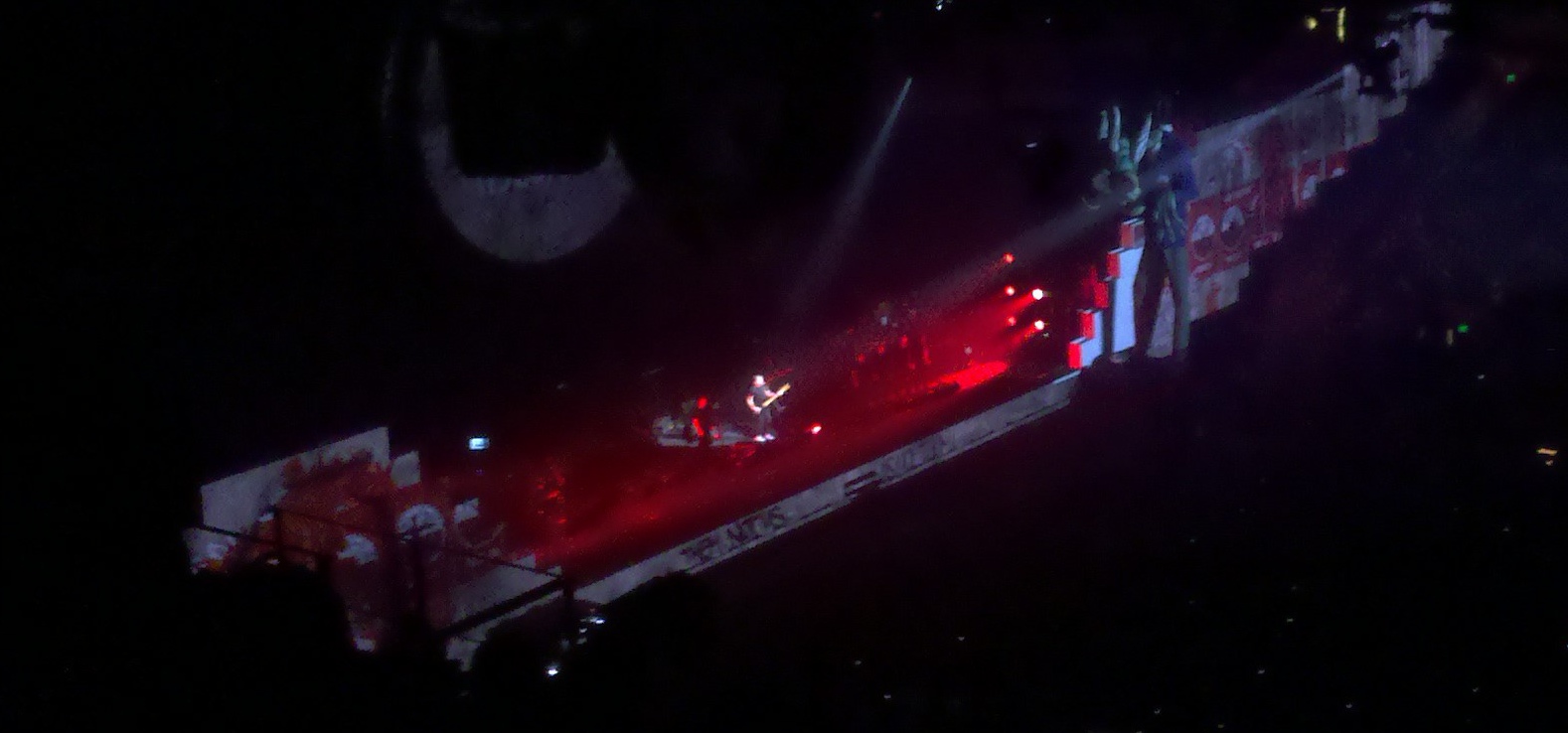 The teacher characature

The Wife characature

The show had an intermission, after Goodbye Cruel World, when the Wall was complete.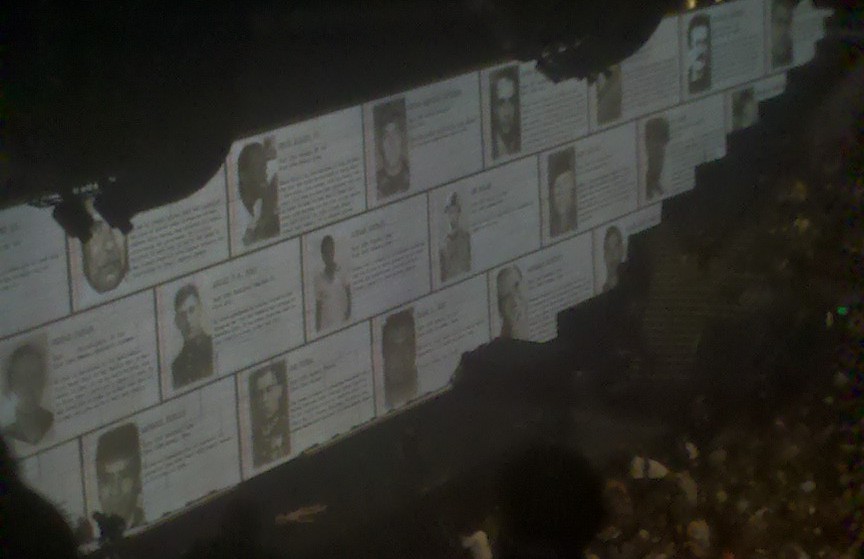 During the intermission, they projected a changing display of casualties of war. From both sides. This was a strong theme in the entire show.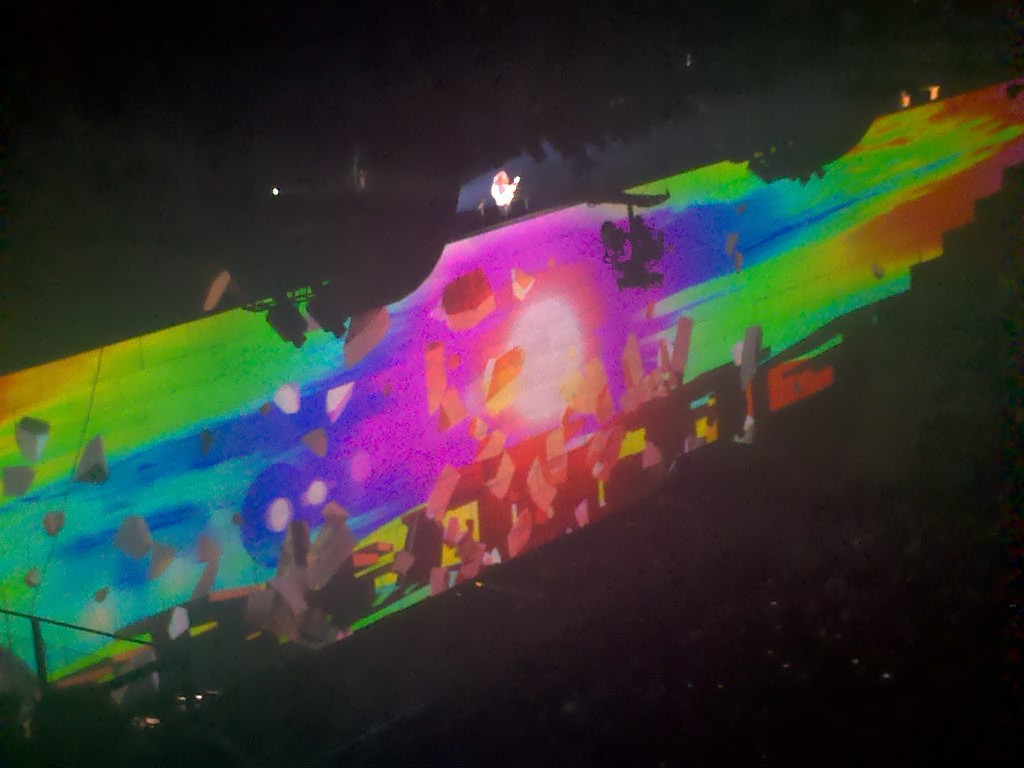 A very colorful display during Comfortably Numb, it was really neat.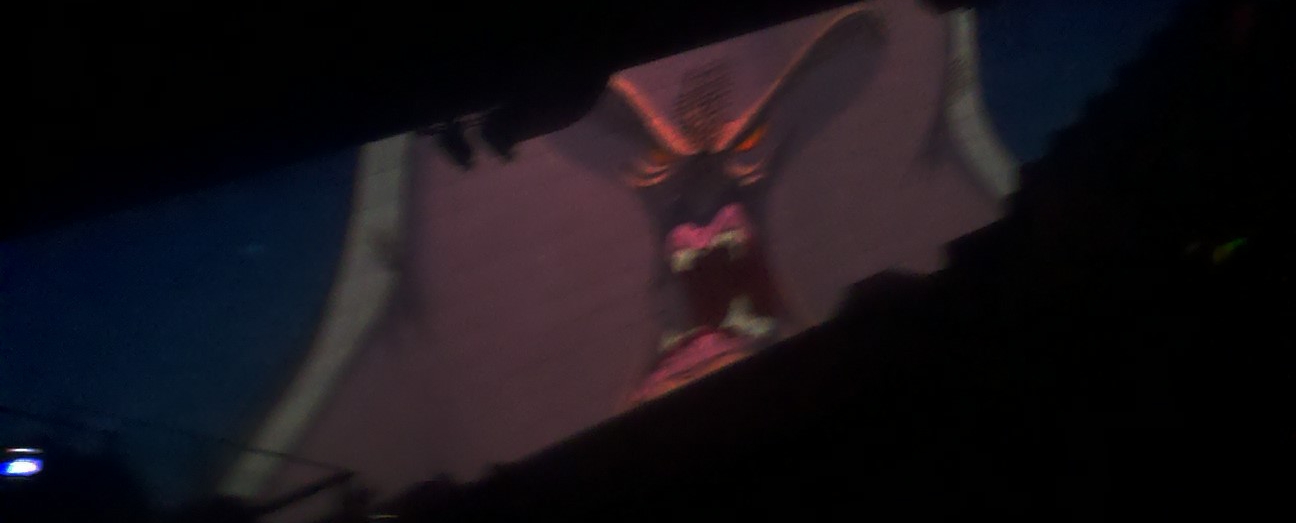 The Judge, during the harrowing Trial. The apex of the entire show is pretty intense.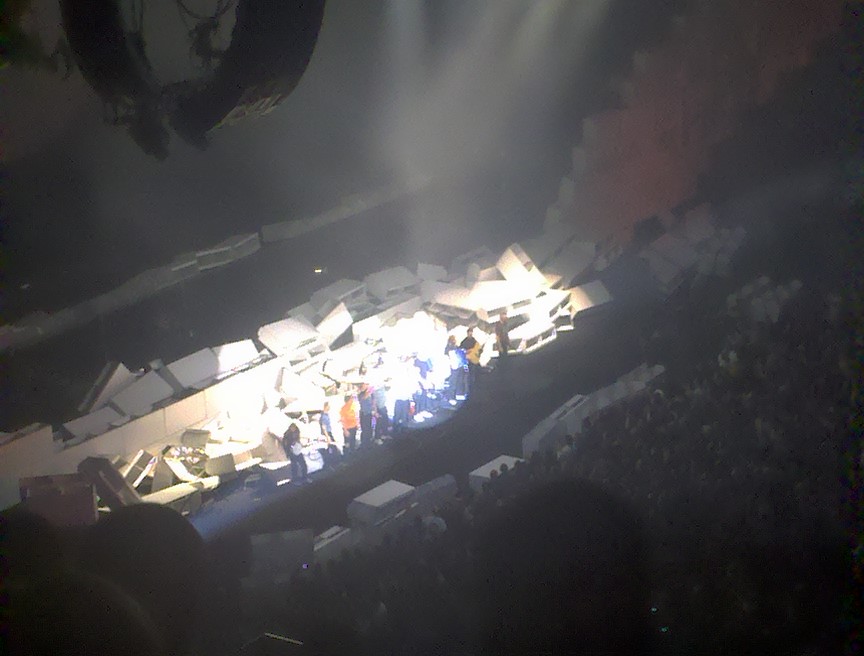 The wall fallen, the band finally in the spotlight