We decided to get out of the house Saturday, and be a little spontaneous, to go out and just do something. After weighing some options and realizing out time constraint (it was already 11am) we chose The Exploratorium at the Palace of Fine Arts in San Francisco. Well, I chose it, and Caralyne quickly called me out and said "Why do you ALWAYS get to pick?"
It's simple: cause I'm the adult! Ha, top that little 6 year old!
Ahem, anyway…
I've been looking forward to taking the kids here for a while. I always liked coming here as a kid, being able to interact with everything made a huge impression on what I wanted to do. Giving kids the ability to explore and experiment is great,from playing in a mud pit in the backyard to changing the frequency and intensity of a sound wave.
So, we were on the road and thanks to 3 different maps (all telling us a different method to get there), and a Garmin GPS, we made it there stress-free and unscathed. We even accidentally got back on the freeway towards the Golden Gate Bridge, but no worries, the soothing mechanical voice of our GPS devices, devoid of all emotion, safely led us back to The Exploratorium. Of course, the reason why we accidentally got on the freeway was because there is very VERY little parking there, and we tried to find parking on the side streets.
As soon as we got in, we were already having fun, thats how cool the Exploratorium is. I was really happy that Owen was going out of his comfort zone and playing with new things. For a while, he would not touch anything that was new, and it was to the point of some concern. He seems to be doing much better and that makes me very happy.
Owen not taking crap from a stranger!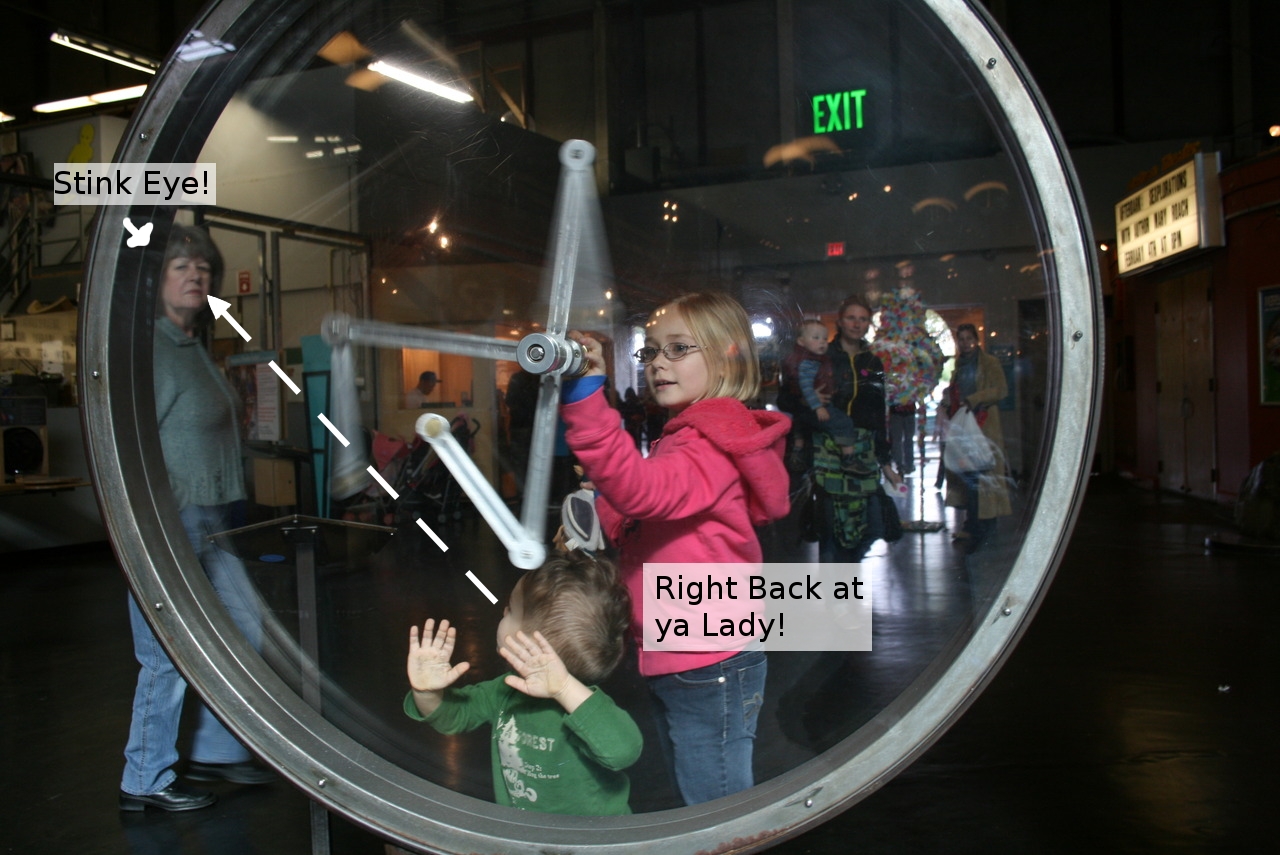 Owen loved the rotary table. Centrifugal force rules!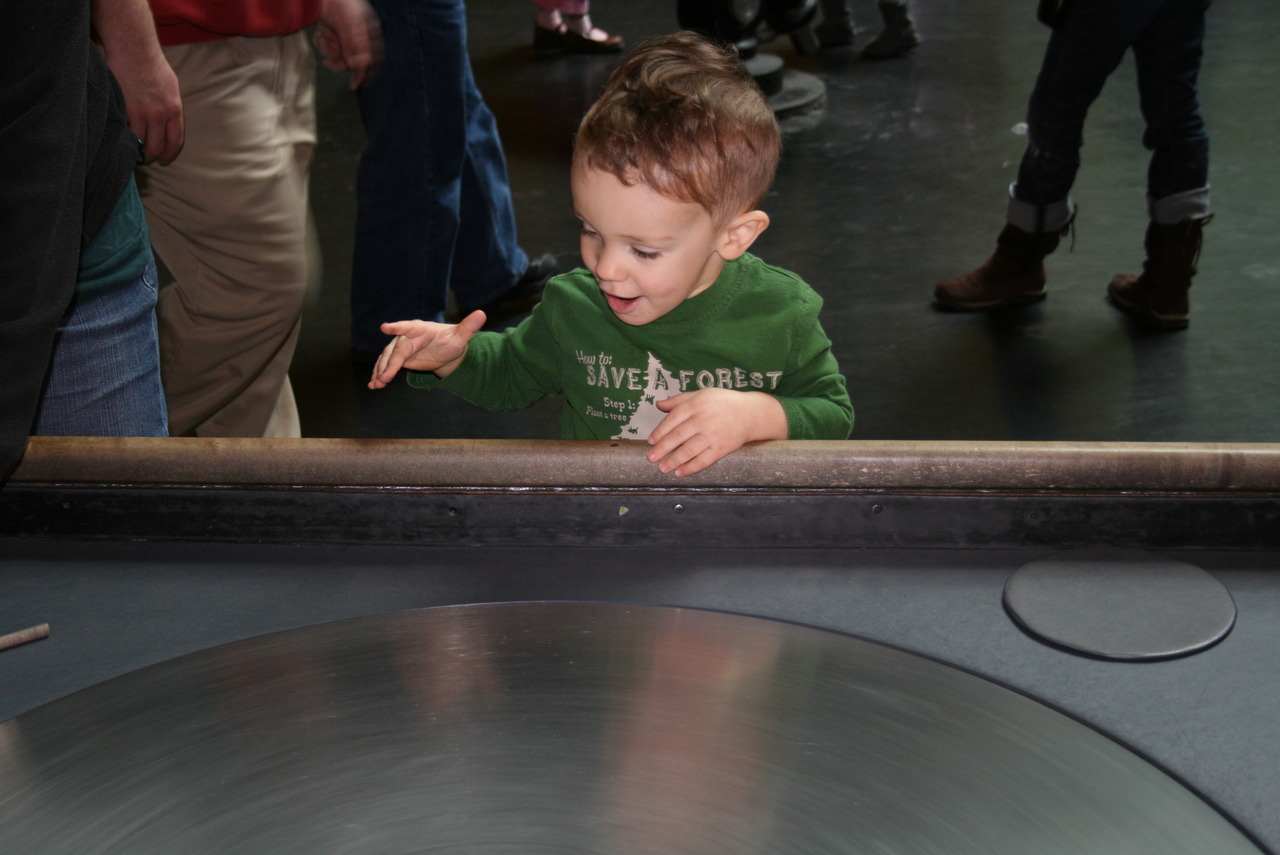 The place is pretty large, with two levels. After spending almost two hours on the first level, we had lunch there, and then went upstairs for the other half.
It's hard to play the Theremin and not look like a magician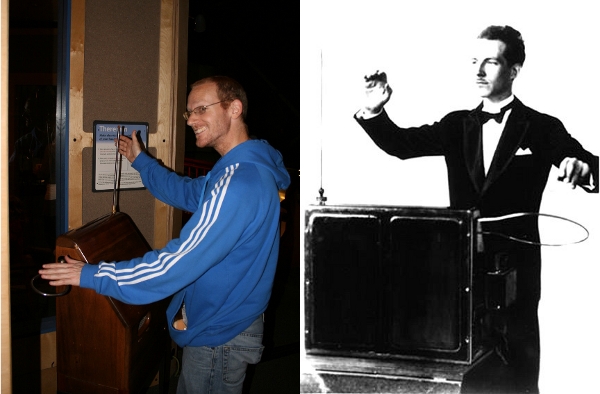 We played with a bunch of auditory based exhibits, my favorites were the 'see a sound wave', the Theremin, and some rig that let you visually see a guitar strings frequency and amplitude. Oh, and they had a cloud chamber, and that was REALLY cool to see. It's too bad I couldn't get a good picture of it, the flash reflecting off of the glass and then focusing on the wrong object made it difficult.
Caralyne next to the weird sticker bird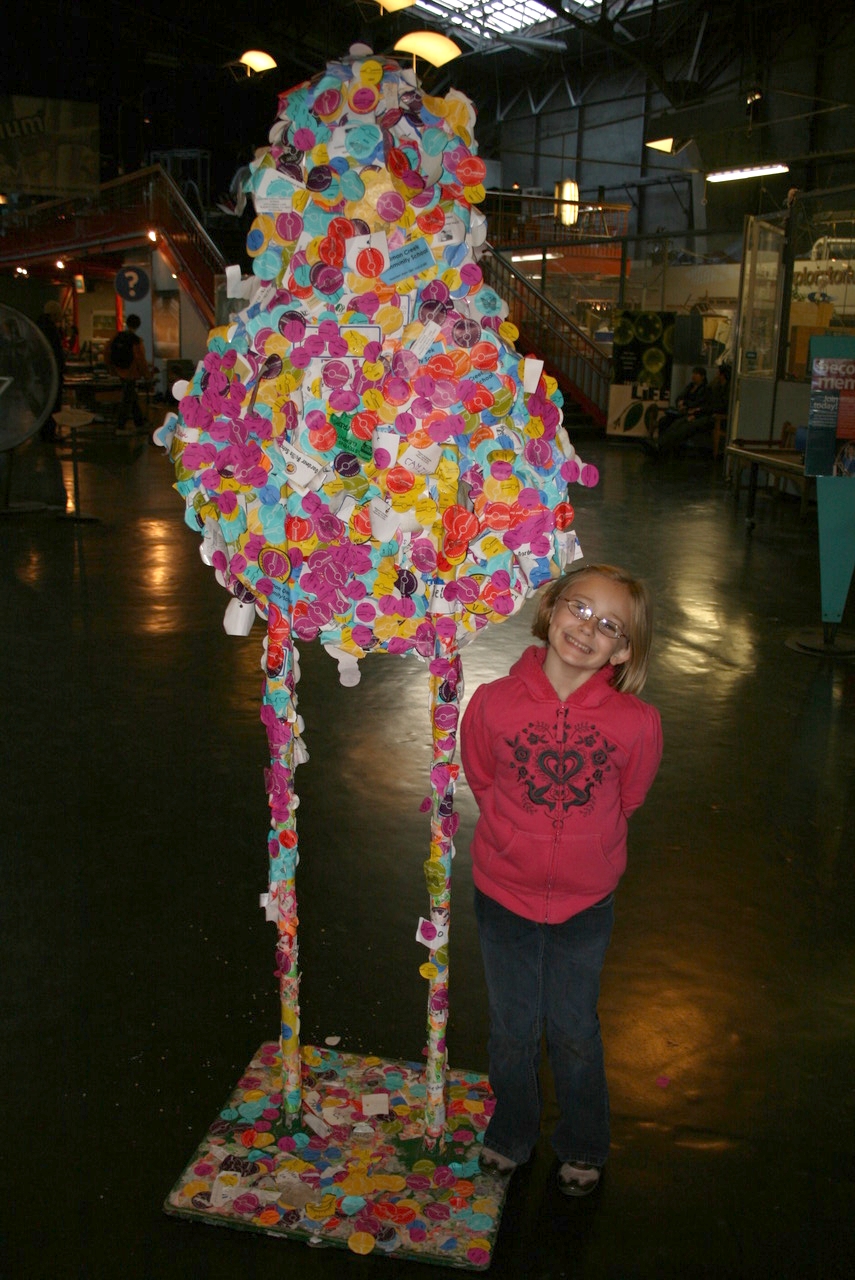 After all that, we left around 4:30 and headed to Fishermans Warf in hopes of getting dinner. I pumped $3 worth of change for 55 minutes at the parking meter, so we walked up and down the street a bit, and then ducked in the Rainforest Cafe. The wait itself was about 30 minutes, and we didn't have that kind of time. Also, Owen was getting a little sleepy since he didn't have a break at all the entire day. So, we sort of hung around there, bought a couple of snakes, and then headed back to the car. We timed it just right, three or so minutes remained on the meter!
I can't wait to pick the next place, so I can continue to impose my interests upon my children. Maybe the Chabot Space Center, or the Lawrence Hall of Science…