Over the past year I've had a slight resurgence in playing the guitar. Owen likes music, especially the guitar, and I've threatened a few times to dust off the electric guitar and really make some noise.
After listening to a substantial amount of Pink Floyd, I got the urge (after 10 years of not playing) to pull everything down and get it all set up. I then hit a very unfortunate snag with my old Jackson JS20, the nut had chipped. This prevented the low E string from staying in place. The output jack was also broken, and as I recall, it was one of the reasons I stopped playing that guitar (and all together). I mean, there were other factors, but having your guitar ground out randomly was a great deterrent from playing.
This cracked when I started tuning the strings.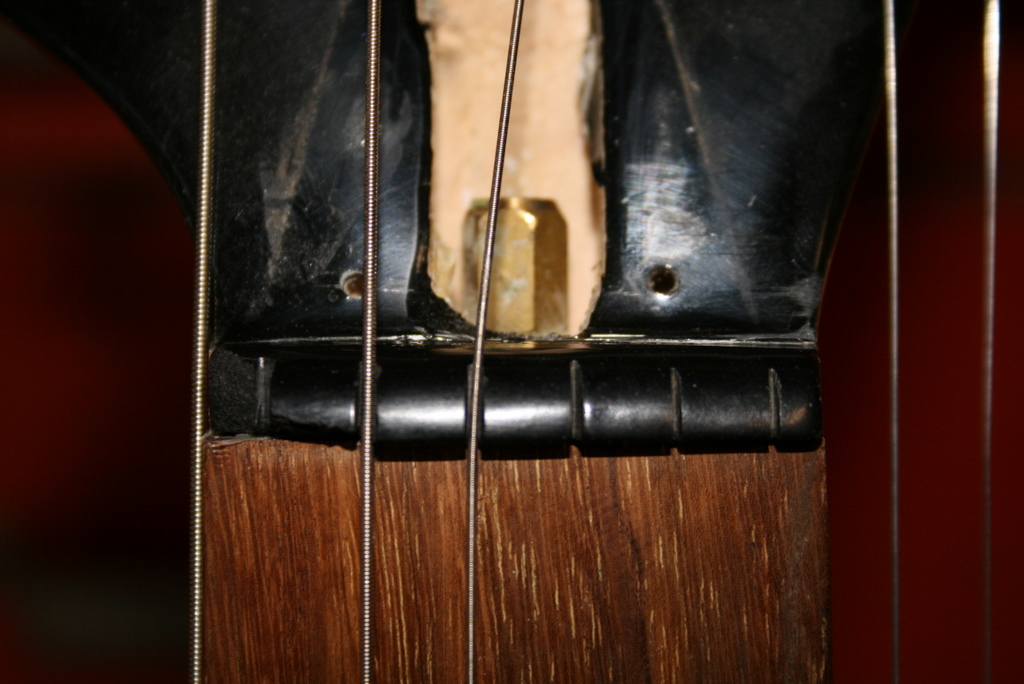 So I had to do two things: get a new nut, and a new 1/8th" jack; replace both respective pieces. The 1⁄8" mono jack was easy, I stopped by Radio Shack (besides being a cell phone store, they still amazingly stock electrical components) and picked up a few 1⁄8" STEREO jacks. Why Stereo and not mono? Well, I read that it helped provide a tighter fit for the plug, and it certainly does. It was a killer idea, glad I stumbled across that.
Getting a nut proved to be a little more difficult. I drove to Guitar Center in Concord, talked to a sales associate there, and they gave me a new graphite nut. I came back home, and to my dismay, it was for a Les Paul, and even though it fit in place of the old, the channels for the strings were off, and the strings kept popping out. Disappointed, had to wait until I got back from Alaska before I would be able to make it back out to Guitar Center.
a shot of the neck with the old nut removed, site cleaned properly for the new nut to be placed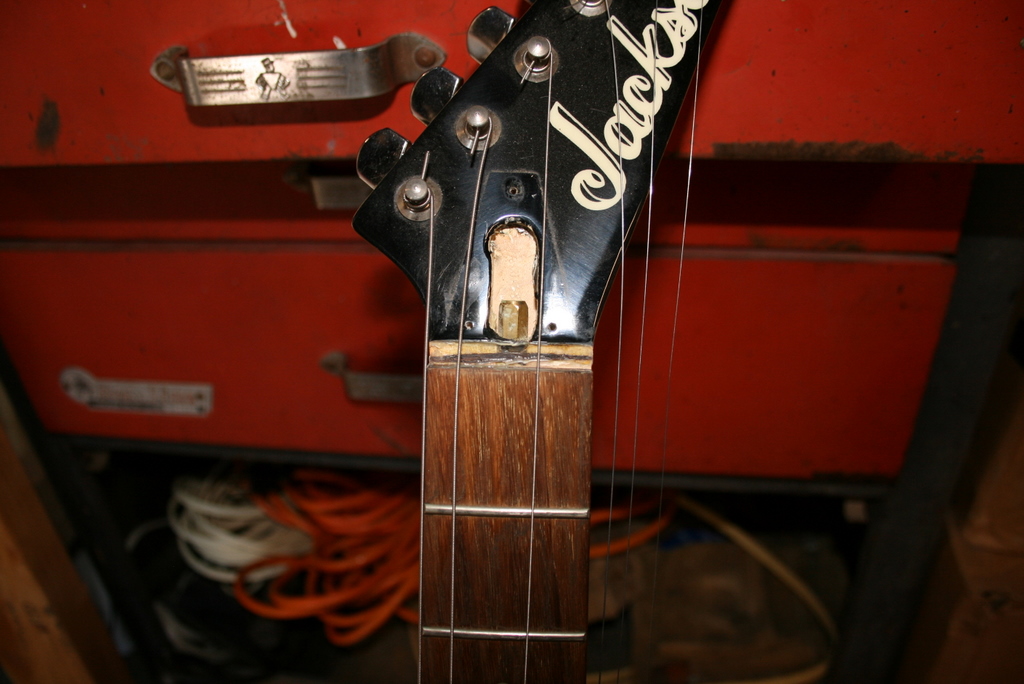 When I went back to return the nut, another sales associate said that they didn't have a nut for my guitar, and it would have to be special ordered from Jackson. He also said he'd call them Monday, and call me back… he never did, even after I called and left a message twice. What a slacker. So, I started hitting up the local music shops here in Antioch where I finally ended up at Music and More. Bill, the spacey but very helpful technician offered to make one for me out of bone, and at this point I didn't care if it was carved out of my own hip bone, I was worn down from not getting anywhere. Well, after a few days of missing each other and him leaving a few messages, we finally met back up and he gave me a new white nut that he had lying around his house.
Sweet! the color was different, my stock nut was black, but it doesn't really matter to me.
The output jack disassembled, the new one is below the old one on the right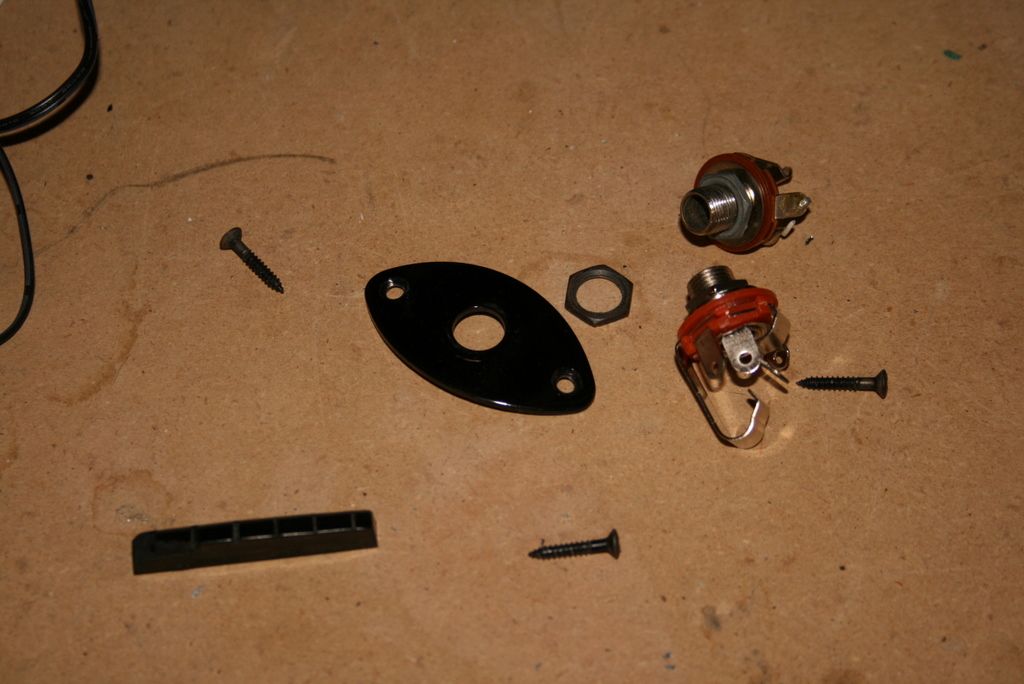 The innards of the JS20 exposed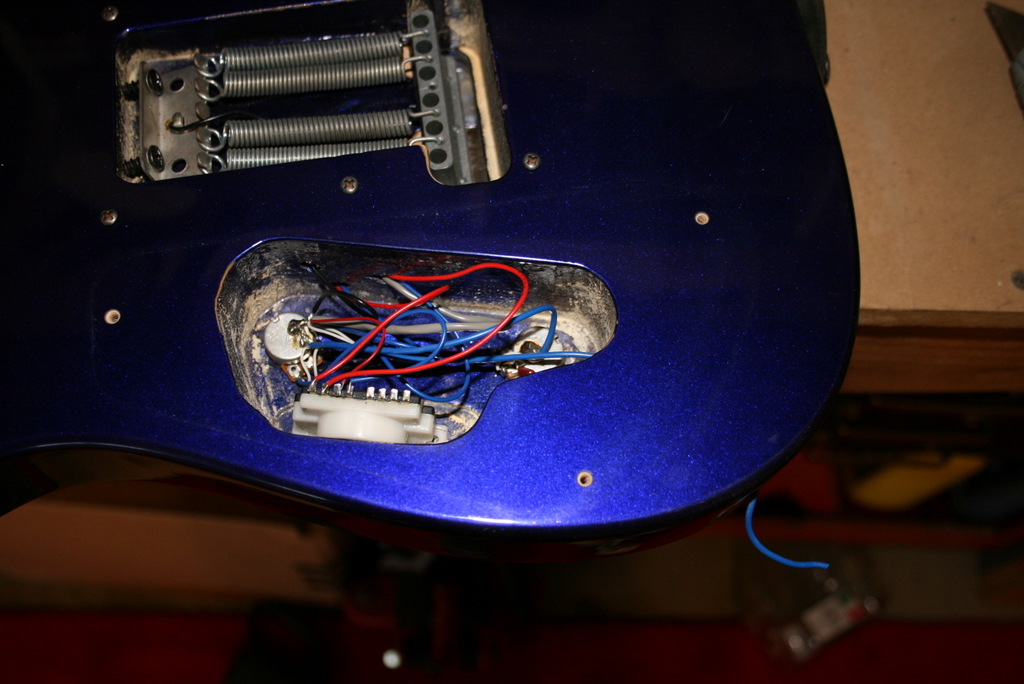 The freshly cut audio-out wire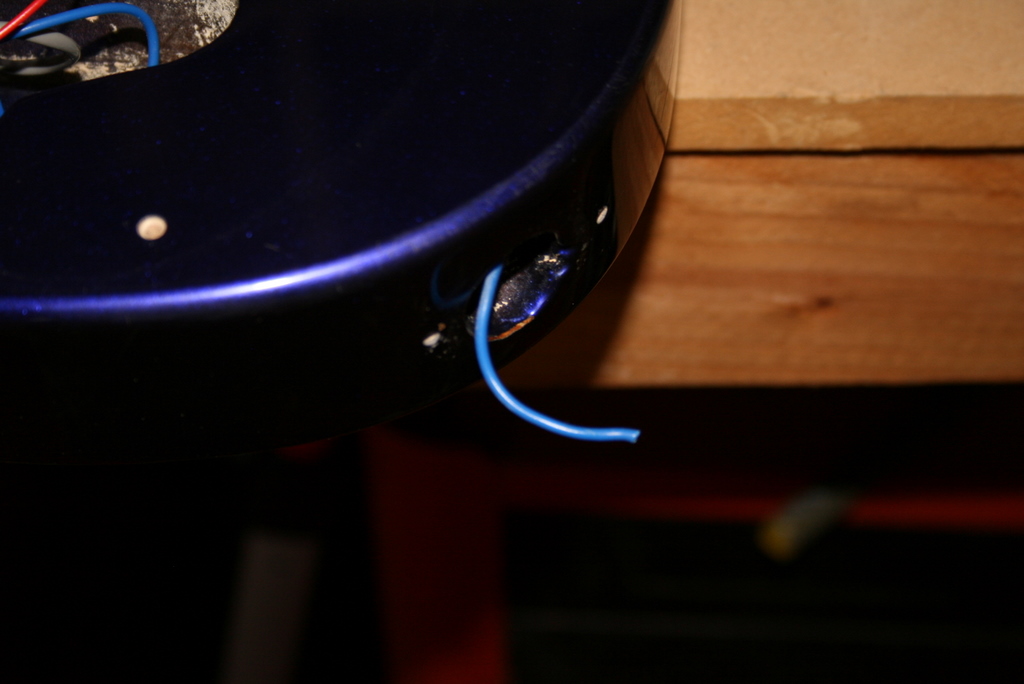 And now its stripped away, ready to be soldered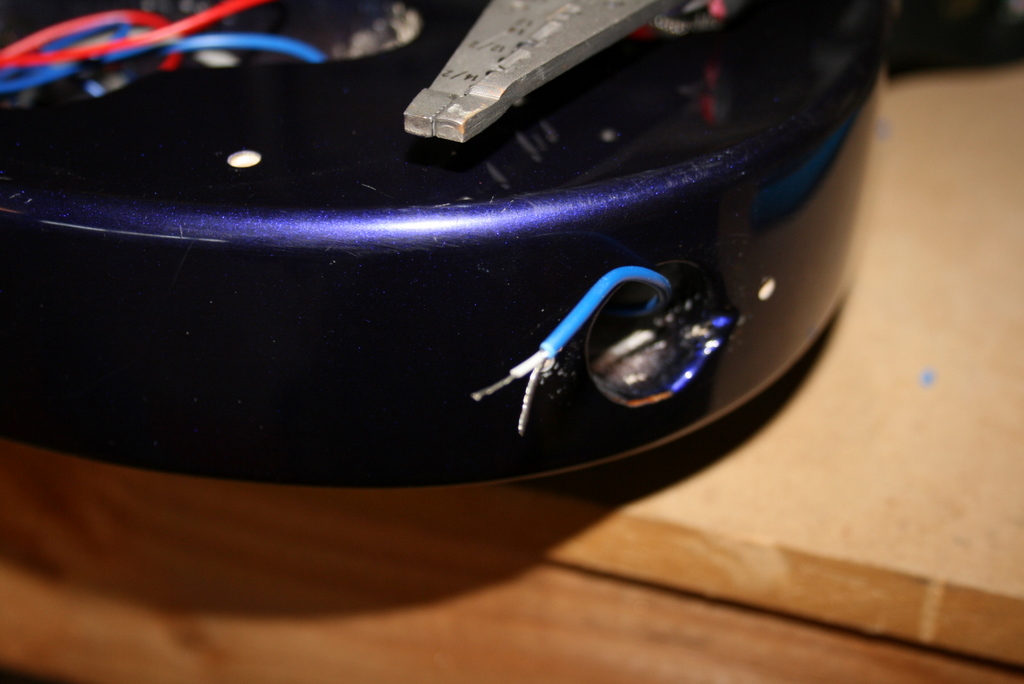 This was tricky, I had to solder it while it was dangling like this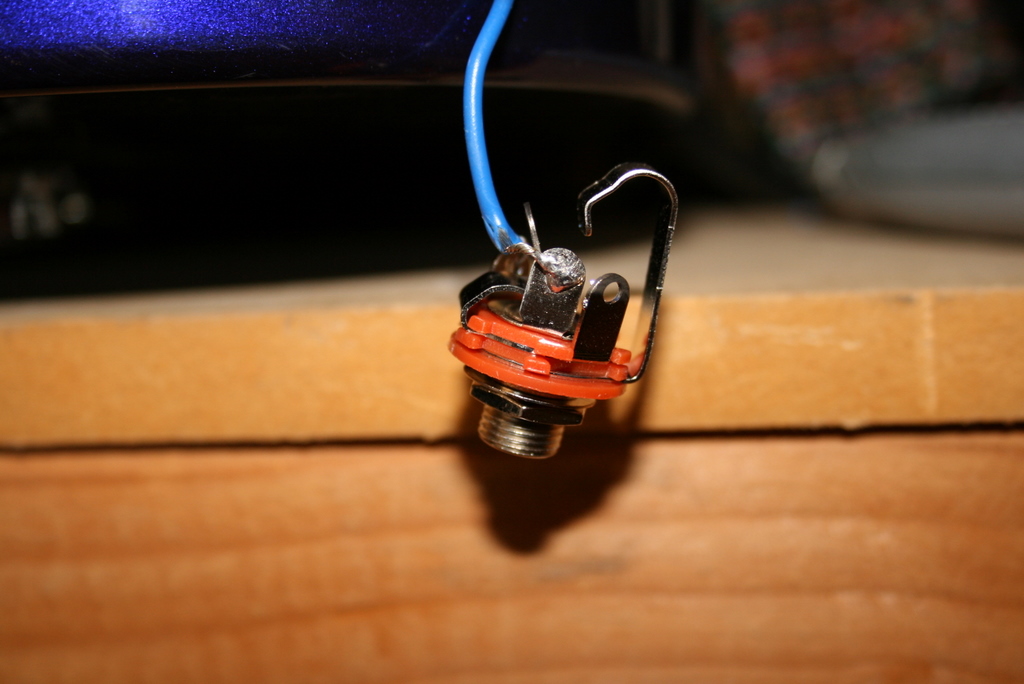 It was harder to get it back in, the new jack is just slightly bigger than the older one. Its holding strong though.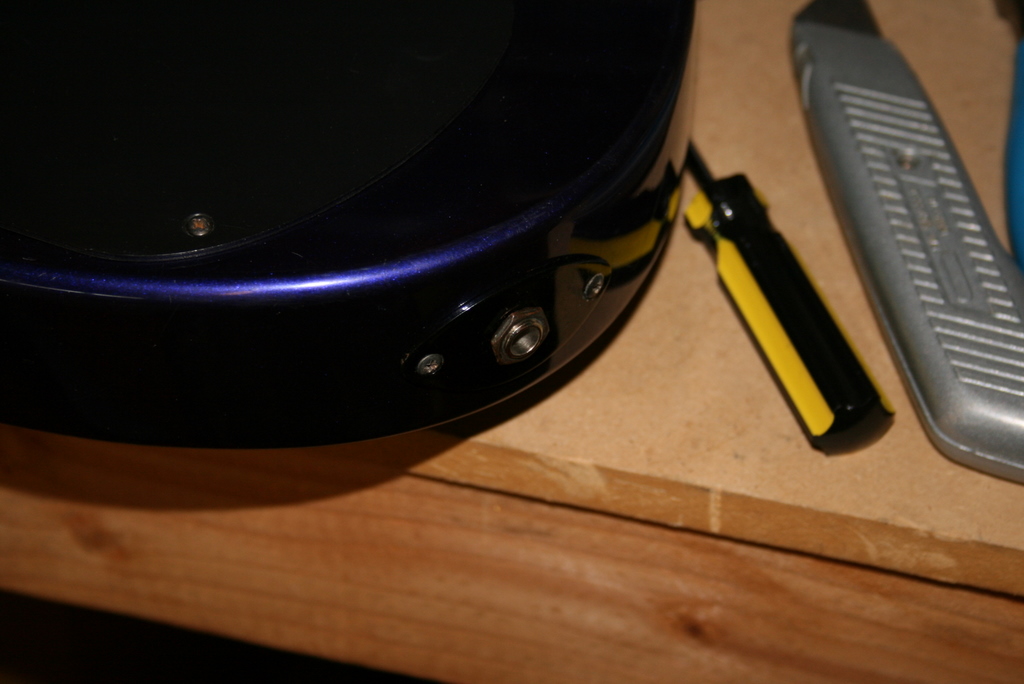 Now for the nut. This clamp came in handy, it held it tight while I let the glue cure for two days.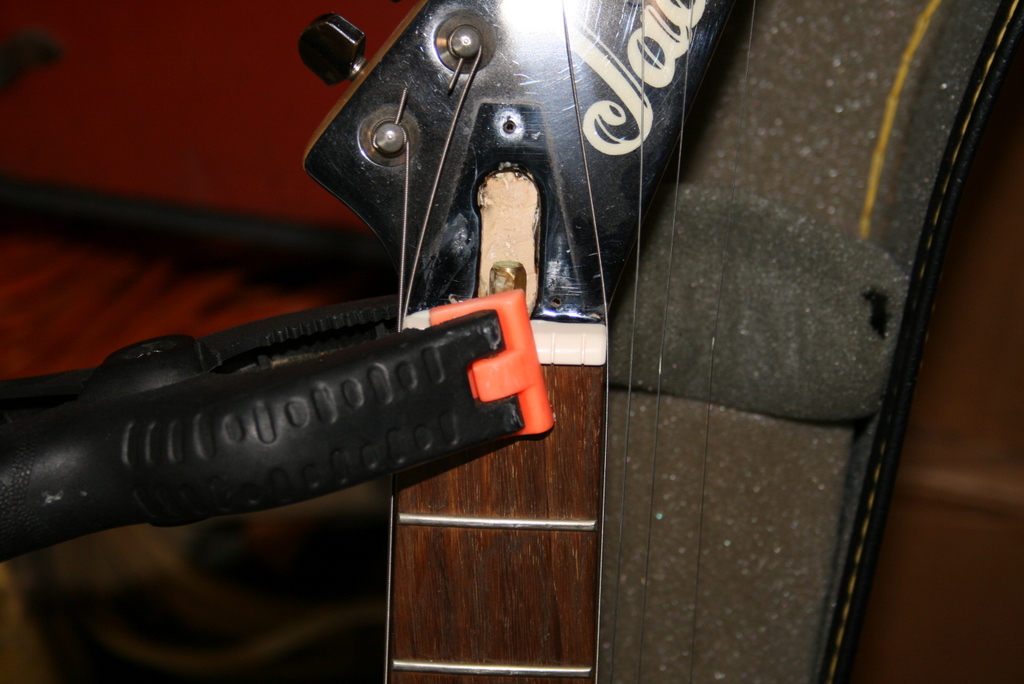 All done, and ready to learn Echoes - Part I
The repair of both parts was a lot of fun, and after all is said and done I'm happy with the results. I don't have any issues with the guitar cutting out, it plays well, and the nut is doing a great job of holding the strings in place.
The guitar itself is decent, though I'd still really like to get a new one. After switching back and forth between the Jackson and the Yamaha SE250 (not shown), there are aspects of both of them that I like, and dislike. The Jackson has an extra pickup, so there is more tonal variation, the body is a little nicer, and I've spent a few years wearing down the frets with daily use (until I stopped that is). It sounds nice. However, I don't like the placement of the jack, its more prone to breaking (this happened to me once with my old bass guitar, pretty much ruined it).
The Yamaha sounds like crap, and its harder to get it tuned (and stay in tune), but the neck is nice and I prefer the placement of the jack. The neck has more of a "C" shape, while the Jackson has a "[" shape, and I do find it a little more difficult to play on.
I'll soon have to move all this out to the garage, I'm testing Michele's patience with all paraphernalia lying around. The guitar, the petal, the cables, the sheet music, its all cluttering up the front room.