harman kardon avr 254
 2009-03-29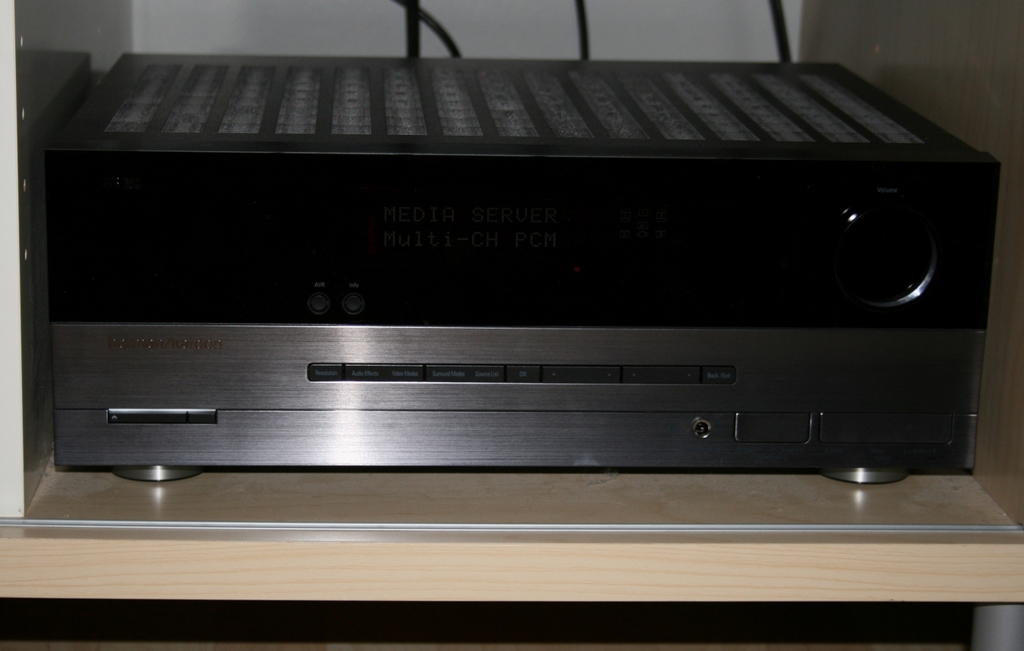 HK AVR 254
It is no secret that I love watching movies in the comfort of my own living room. I get to eat what I want, drink and not have to worry about driving, and most of the time I'm by myself so I don't have to worry about shushing people. What can I say, its a great way for me to recharge and get lost for a few hours.
Since I upgraded my HTPC to playback the new high definition formats, Blu Ray and HD DVD, I've come across a few little hiccups and had to re-think how I was going to get the most out of my setup. Some hiccups are just part of the new format, like decoding Dolby TrueHD/Dolby Digital Plus/DTS HD/DTS HD Master, the whole "trusted path" for the audio and video (HDMI output). Others were limitations of my equipment and what others were willing to put up with (both Michele and Caralyne did not welcome using a computer to playback movies). So as I started refining things, I new I needed and wanted a few things:
HDMI Switch for both the HD DVD stand-alone player, and for the HTPC

HDMI 1.3a support

A working remote (my old Pioneer remote is busted, in pieces)

Support for decoding the new HD audio formats

A working FM receiver (Michele's request, the pioneer was never able to pick up a FM station)

Multi Channel analog inputs (for uncompressed LPCM audio from the HTPC)
So for the last few months, I've started to read up on the very helpful avsforum.com forum (yet another redundant statement, I'm getting good at these), looking at current receivers, and all of the quirks. Since every consumer electronic device now is a computer with its own embedded OS, we now have to be concerned with our alarm clock panic'ing, or our TV's seg faulting. Receivers are no longer an exception to this. They used to amplify speakers and transmit analog, then there was bitstream decoding, and now we have complicated HDMI switching and handshaking, high res audio formats, auto-eq features and full screen menu's. So I was not surprised to see a 200+ page thread dedicated to the HK AVR x54's problems. Some of them were terrifying, with audio popping, black HDMI screens, all the stuff I was not interested in. There has been a new firmware update though, and that seemed to fix a lot of the issues, and while there were a lot of posts describing these issues, there were a lot of happy Harman Kardon owners. I'd like to add myself to that list, because so far everything has worked GREAT.
My Environment
Here is a quick rundown of the hardware and software I'm using
hardware
Samsung HLR5067W DLP TV (720p/1080i)

Toshiba HDA3 HD DVD player

HTPC

Intel DP35DP Motherboard (Intel P35 Chipset)

Intel Core 2 Duo E6750 2.66Ghz

2GB DDR2 memory

1x160GB Samsung SATA drive

ATI 4550 PCI-E with HDMI out and Realtek HD Audio

LG HG20 Blu Ray/HD DVD combo drive

HK AVR 254 (that is obvious at this point) w/firmware 0.49.1.1 , 16-05-2008

Klipsch Speakers
Software
Windows Vista 32bit SP1 (I "greatly dislike" Vista, but it was free and it works)

PowerDVD 9

Realtek ATI HDMI Audio Driver version 2.18

ATI - 9.3 Catalyst,/8.59 Driver

AnyDVD HD version 6.5.3.1
Lets get to the fun stuff, I picked up the new Bond movie, Quantum of Solace, so I'll get a screen in of that.
The Tools!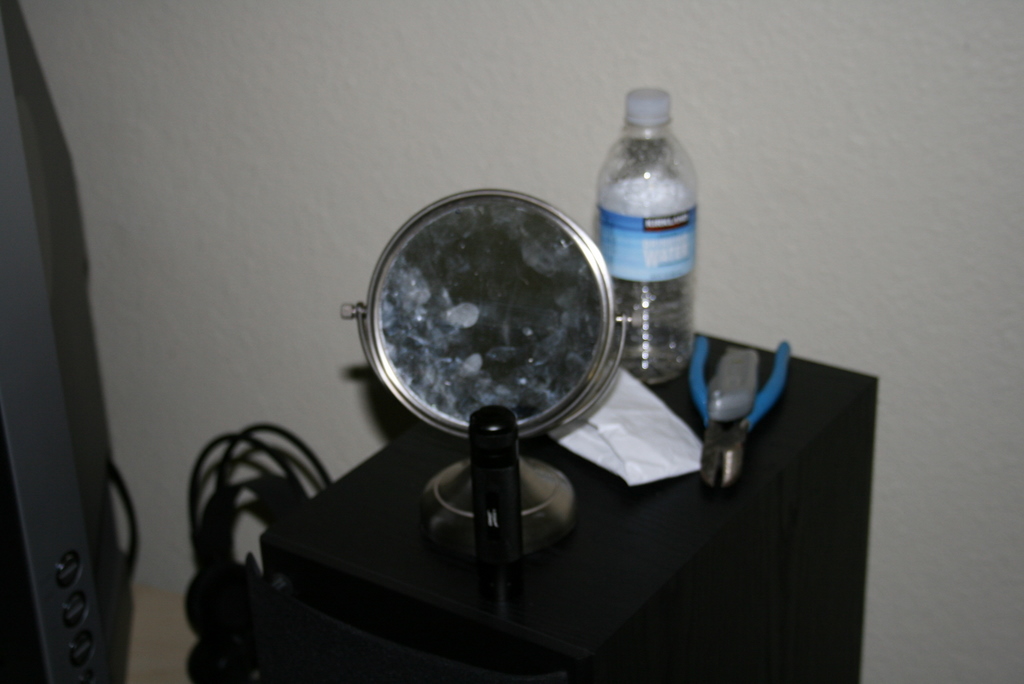 I have to use a mirror and a flashlight, its pretty tight quarters in the entertainment center. the large pair of dikes there, well.. lets check out the rats nest behind the TV and it will become obvious.
I think I see a skeleton in there…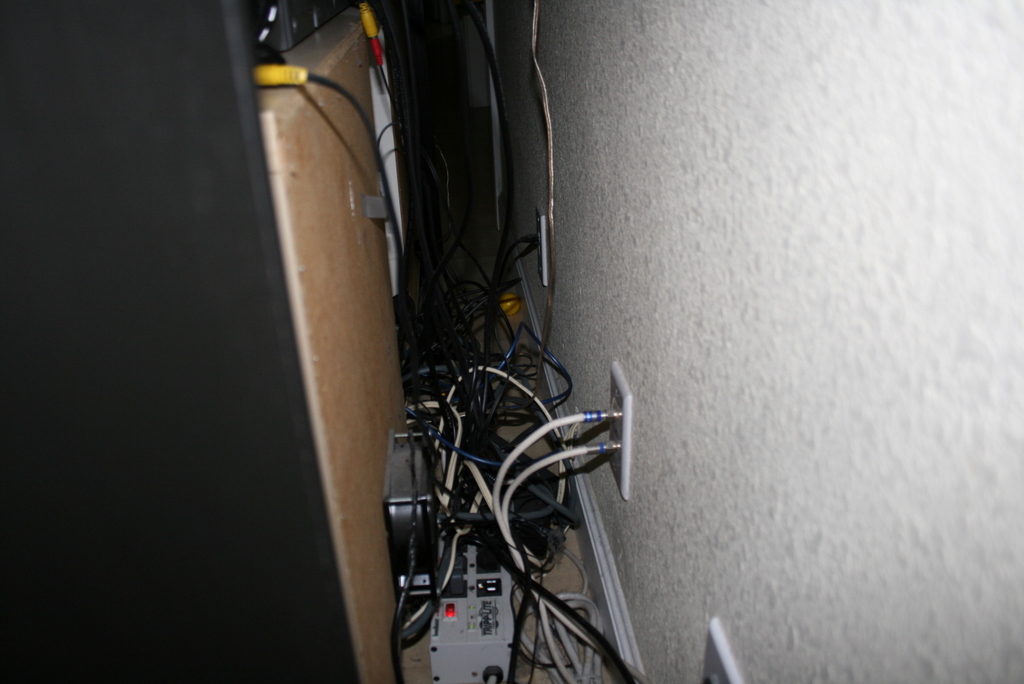 I find the add's for HDMI equipment very funny: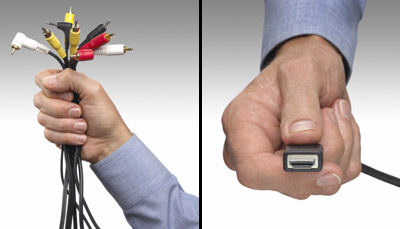 Its all so easy, this one cable replaces at least 5 -6 other cables. Its true, it does replace the separate video and audio cables. Of course, when you have a computer, an XBOX, a DVR, a DVD player, and a reciever, they all need their own power, video/audio cable, network connection (yeah, everything now needs to be online) not to mention the 5.1 surround sound cables. It would be great not to have all this mess, in the end, I'm too darn lazy to really clean it up. Just don't look behind there…
Back to the environment:
The other half of the AV setup.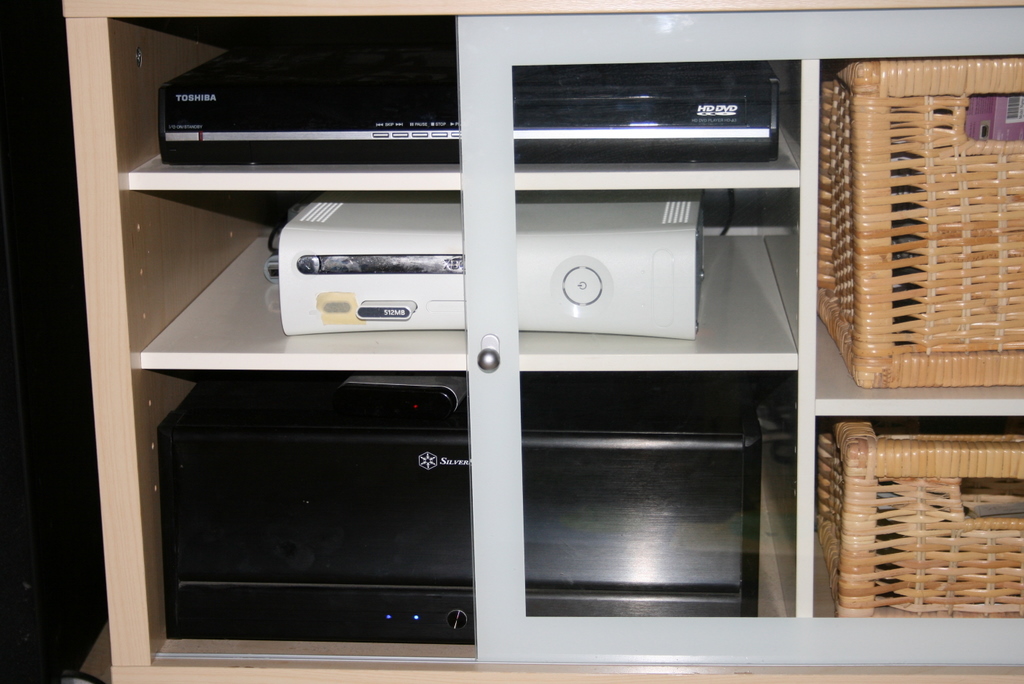 So there is the HDA3, the Xbox 360, and the HTPC. All of them are now connected to th reciever. The HTPC and DVD player are native HDMI devices, but the Xbox is component. So, I configured the reciever to transcode the YPbPr signal to a digital 1080i signal. Sweet!
Me blogging about the device while I use the device… Its like an MC Escher painting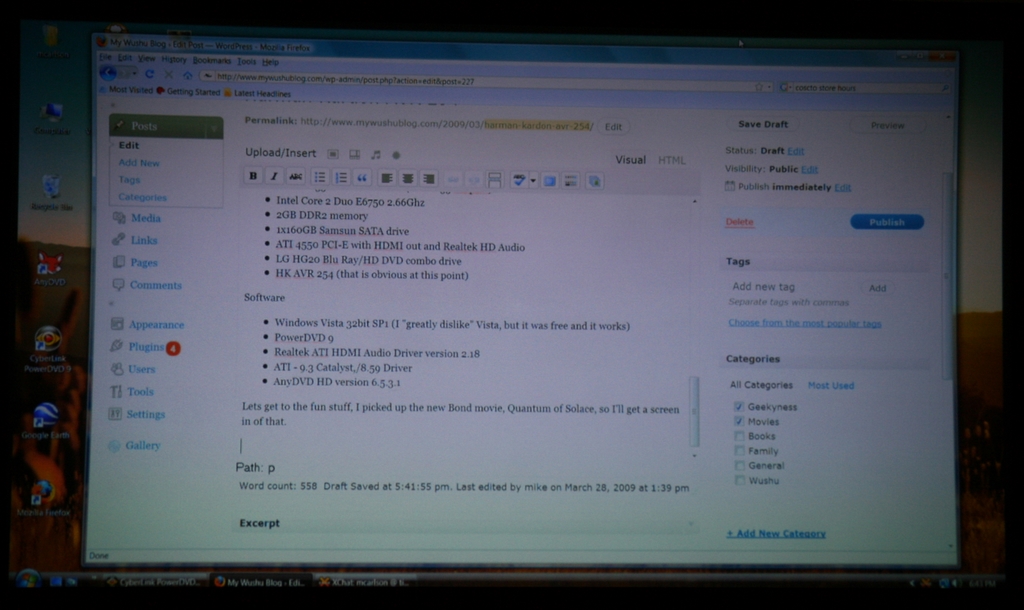 This is the output of the HTPC, I'm very satisfied with the image quality. The camera makes it look worse, its hard to capture the detail there.
Now for a coloring Break:
Caralyne and I drew some some pictures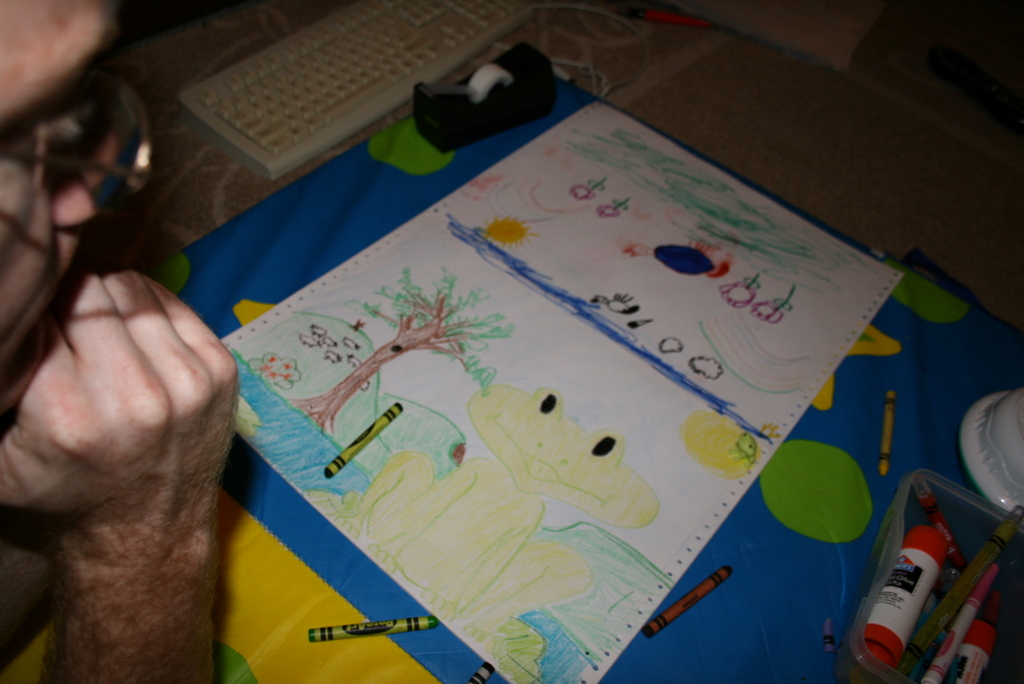 She is very proud of her landscape drawing, and her rainbow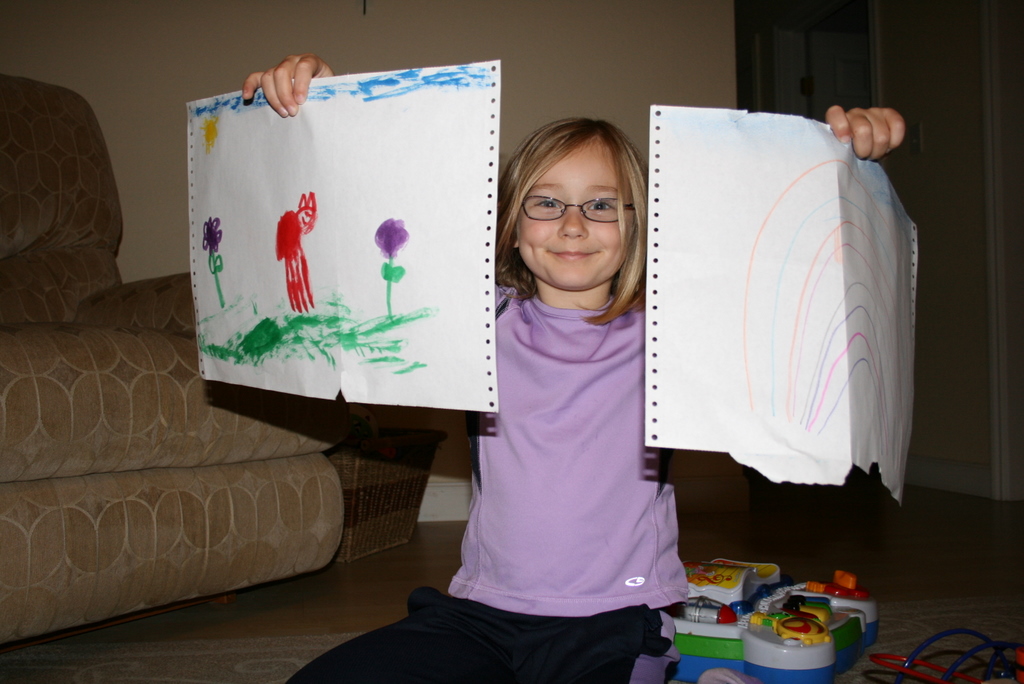 Okay, with it now late enough in the evening, I can watch a movie…
A random scene in Quantum of Solace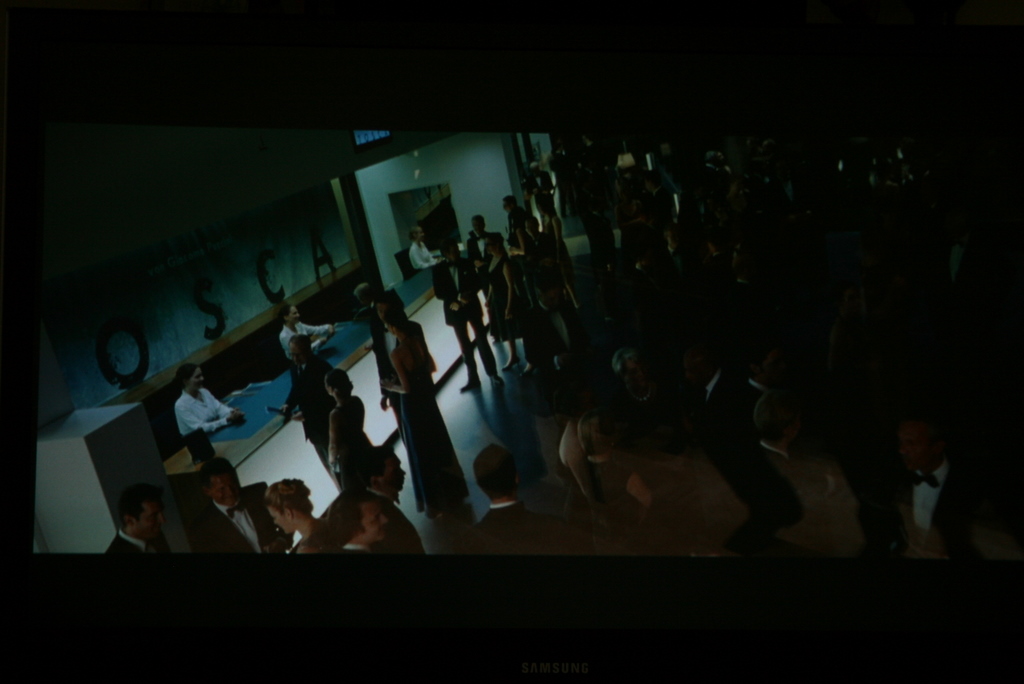 It sounded great, nice and punchy, and I got my subwoofer cable fixed again so I can rattle the windows again (and I really mean my neighbors windows). I'll hold of on the firmware update, if I don't encounter an issue, I'll leave it alone.