Disneyland
 2007-07-12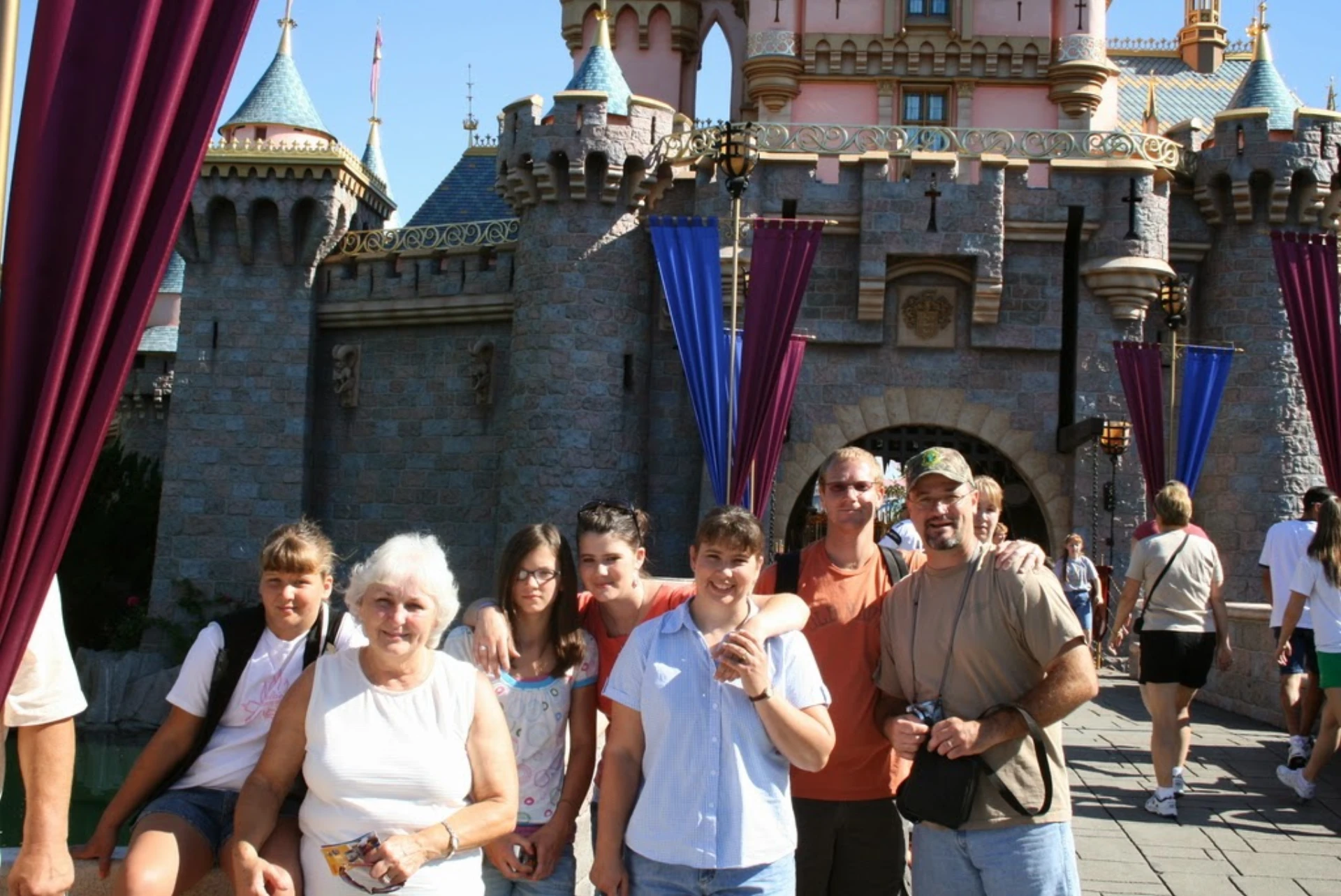 July is not the optimal time to visit the Magic Kingdom, unless you plan on going only after the sun goes down to escape the unforgiving sun. Besides the heat, it was a lot of fun. My feet are still killing me from all the walking and standing :)
We went with my In-laws, which was Michele's parents, her brother's family ( wife and 3 daughters ), and Michele's cousin Brenda. Oh, and Caralyne. They all had left early Thursday morning in the RV, but since Michele had to work (and I had to do things around the house before we left) we ended up flying down there Thursday evening. We pretty much landed in Anaheim the same time they drive in, good timing.
At the RV Park, Michele and I pitched a tent next to the motor home, and the evening weather was great for it. The only problem was the sprinklers that would come for a few minutes at night and in the early AM. I fist discovered this as I was relaxing the first night next to the tent, reading my book. I was taken out of my story very quickly when my shoes became soaked from the water. What was nice about the RV park is we could still get a great view of the nightly fireworks at Disneyland.
The first morning I thought I could tough if out with a backpack full of water and kashi bars. We also had the camera, sunscreen, quaters, kitchen sink… you get the idea. Once it reached the 90's, that backpack was no longer a useful item. It became a burden, and when your 3 year old is tired from waiting in line and walking all over the park and wants to be held for a bit, it feels heavier. It would have been nice to get back to the RV park and have lunch, but our bus driver has a 11:50 - 13:50 lunch break, and we had missed the 11:50 bus. So we waited until the 14:30 bus to get back, and I was no longer happy. It was just too hot and I started to feel sick. I decided that I would not be bringing the backpack, at all. So We only have pictures of day one :)
More available here: https://www.m87-blackhole.org/photos/2007%20-%20Disneyland/
When we got back, Michele went to the pool ( I came to stick my dying feet in the pool ) while Caralyne napped. Then we all made sandwiches and rested up until around 16:30. The think about Caralyne taking a nap was that is did not in fact happen, and as we were leaving to go back to the park she was REALLY tired and grumpy. So I stayed back with her so she could get a nap it, and I got to rest up more and finish my book. I took her back to the park after our bus driver's Dinner break, which was from 17:00 - 19:00.
Caralyne and I met up with Michele, and we started to hit up the rides that tend to have a longer wait during the nightly shows. So we rode Pirates of The Carribean a few times ( Caralyne REALLY liked that ride ), the Haunted House, and whatever else she could go on. It was cool, and Caralyne really likes all the adult rides. We got out of the park at 12am, and we were all pretty exhausted and after a nice shower, I went to bed immediately.
The next day, Saturday, we started off with the California Disney Park. Michele and I liked that part a little better, it was less crowded and more relaxed. We took Caralyne to a few shows, and a couple of rides that had the sign, "You must be this tall to ride ->", whats funny was most of them were set at 42", and Caralyne is 43" :). I think she had the most fun at those rides than anything else. I also got soaked from a rapid water innertube ride.
We stayed for the Electrical Parade at California Disney, then went back to Disneyland to eat ice cream ( that was my main request ), and let Caralyne pick out something to take home (plus a few gifts for my nephew who's birthday had passed). We got back around midnight again.
The ride back home was okay, a little slow since we followed the pace of my Father In Laws RV, but that is to be expected. We got back in Antioch around 7pm, and I did my best to help out with dinner by BBQ'ing two prime rib's. It was good, but I over cooked it a little more than I could have liked. The BBQ was charcoal based and I've never cooked on one before ( well, maybe a hamburger once or twice while camping) and I had a hard time regulating the tempratures.
Anyway, a fun trip, and I even got to do a lot or reading which is one of my favorite things to do while on vacation. But now, I'm tired of writing this and I want to go do something else :)